An interactive traveling Memorial
using recycling to confront the tragedy of genocide
Conceived and directed by JEFFREY SCHRIER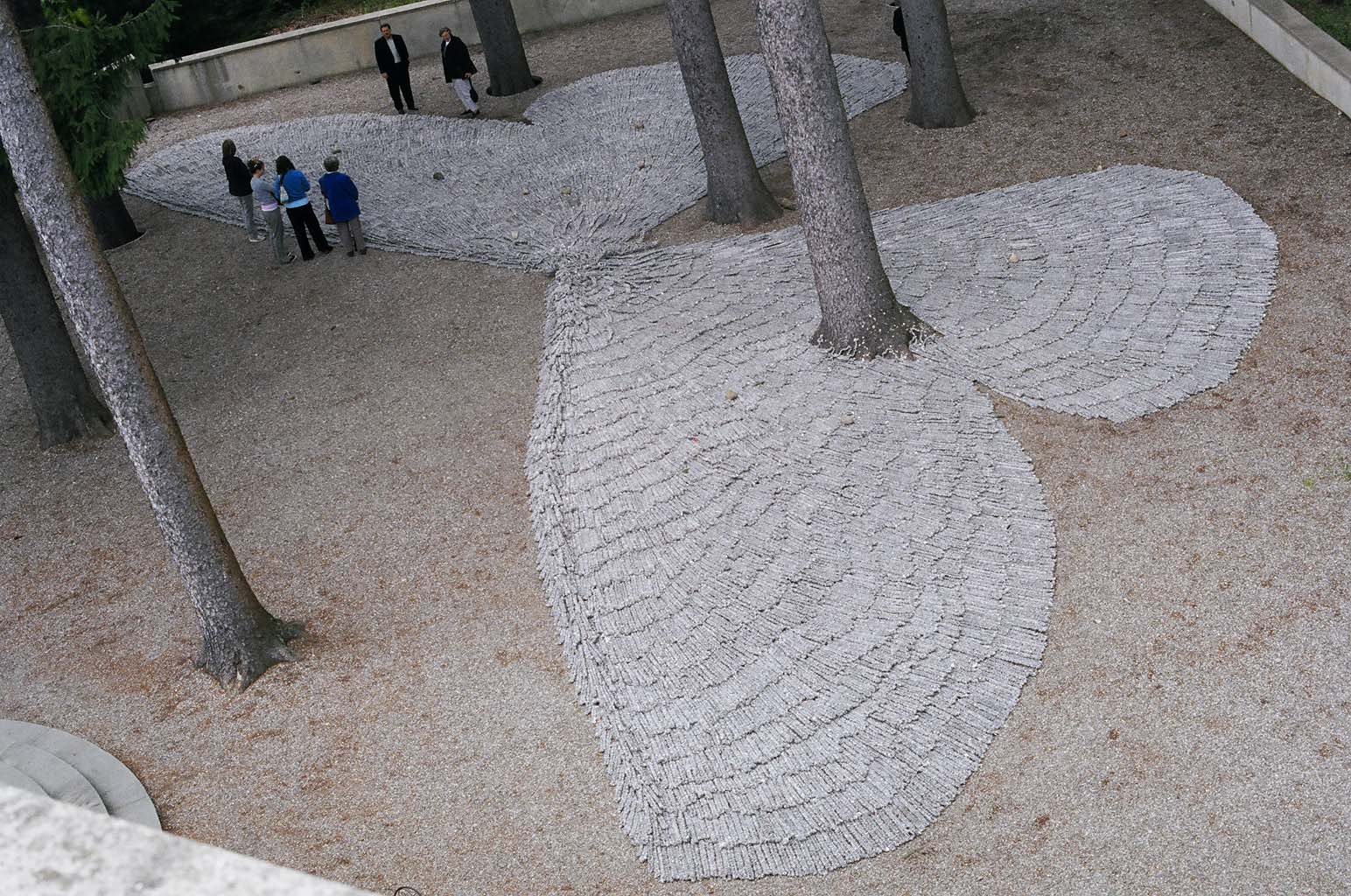 WINGS of WITNESS, Katonah Musuem of Art Sculpture Garden, 2005
WINGS OF WITNESS
A memorial assemblage sculpture in progress inviting hands on participation
---
Under the direction and vision of artist Jeffrey Schrier, thousands of participants continue to construct elements for WINGS of WITNESS through workshops Schrier presents at institutions, museums and schools. The source material used for the assemblage sculpture is millions of soda can tabs. The initial eleven-million tabs were collected from all fifty states and eight countries by Mahomet Seymour Jr. High students in Illinois in 1996-97, to numerically recall the number of persons destroyed in the Holocaust. Millions of additionally collected tabs continue to extend the scope of the project, attempting to encompass the impact of genocide on humanity. Now, over fifty- thousand participants internationally have constructed "soda tab feathers" for the immense WINGS of WITNESS assemblage. An expression of hope developing out of tragedy, the shimmering butterfly form has been installed by thousands of volunteers as a work in progress at eight sites to date, including museums, institutions and public spaces.
Wings of Witness at the Holocaust Memorial And Educational Center of Nassau County
WINGS of WITNESS is a massive project of memory and creativity, that uses an art form to foster human decency, and to build a prodigious community of participants. Confronting hate, apathy, and human carelessness, project workshops continue, through the environmentally based activity of recycling millions of tabs into this monumental work of art. JOIN THE WINGS OF WITNESS STUDIO WITHOUT WALLS, by bringing project workshops to your community.
Wings of Witness - Evolution
---
For a chronology of dramatic photos documenting the eight sites that the memorial assemblage sculpture has visited during its ongoing development, click: Photo Metamorphosis
Click here for Project Background by Jeffrey Schrier, project Creative Director.